The title might give you a sense that I am writing this from Indonesia, but no, its been a while (actually a long while, getting back to life after the vacation took much more than I thought) since I came back home. Now that gives you the idea that I have been to Indonesia.
Obvious Questions:
Why did you go?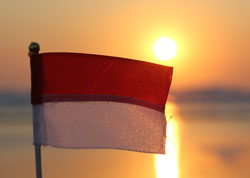 Well, in Airport Customs Terms, Purpose of visit was a social visit. Meeting Friends and leisure. It was on my new year resolution this year to Get my Passport and to use it. I had been trying to get a Passport since I was 18, but each time I would give up since I had some complication in my address. But this time I did it!
Why Indonesia?
I don't know if its me or them, but the friends I have from Indonesia seem to stick. I have made friends from various parts of the world, but most of them never stayed. Visiting Indonesia was in my Bucket List and hence it was my first choice. (Nah, you know I am lying 😉
And how long did you stay?
12 days. Reached Jakarta on 11th August. Visited Jakarta, Bali and Bandung. Returned from Jakarta on 23rd August.