I loved cycling since my school days, I used to go long distances right when I had my first bicycle, well at that time a 4 km trip around the town seemed long and there was the thrill of breaking the rule set by parents which stated that the town was off limits for me 😛
When I was in high school I used to do 15 km spells now and then and last March I brought my bicycle to Cochin doing an awesome 38.7 kilometres in 2 hours. I wasn't hoping to see me up and walking the next day, but surprisingly 39 kms didn't touch me anywhere. I wanted more.
2011 was an awesome year for me, and I wanted to do something legendary to end the year and cycling challenge topped my list. So this 31st, me and my friend Tison Philip, we decided to go cycling to a city called Alleppey.
The idea was to do a minimum of 100 kms. We packed our bags the previous night:
A bottle each of water with ORS dissolved to beat de-hydration
Sunscreen lotion
A bottle each of 330 ml Red Bull. I wanted to see if I could do this without Red Bull so we decided to keep it to a minimum. Last time, I couldn't really see any effect of Red Bull.
Camera and Phone with GPS
The plan was to start really early so as to do as much as we can before the sun gets a chance to burn our skin. We woke up at 4:30, did what we had to do, had Banana's for breakfast and we were all set by 5:30. We got off exactly at 5:35 a.m.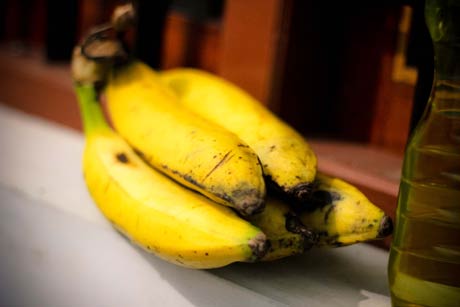 It was drizzling when we started. It hadn't rained for a long time, so we were not expecting rains at all and not prepared for it either. The roads were almost clear and we did the first 1.5 hours just riding, it was smooth and we were just warming up.
First Stop at around 25 kms (as per Google My Tracks on my phone) and at that point our Top speed was 24 kmph and average speed at 14.5 kmph.
Next stop, at 34 km for a quick breakfast of Eggs and Coffee. It was time to deviate from the National Highway 47 to a State Highway; we had plans to visit major tourist spots on the way and not just riding.
There was a historic church on the way, named Arthunkal Church at a place called Arthunkal. Its a beautiful church with beach sand in front of it and lots of open spaces. When we reached the church, we had covered 43 kms already. We spent about 30 minutes there and started from there at around 9:45. By the time we started again it was raining pretty heavily and we were all wet. Tison had come up with an ingenious idea to properly pack our backpacks in carry bags and still wear it on our shoulders.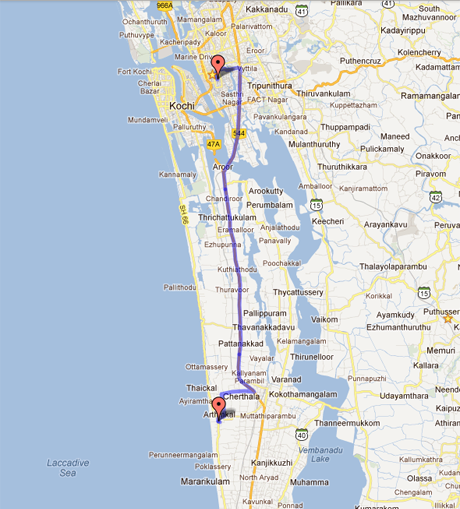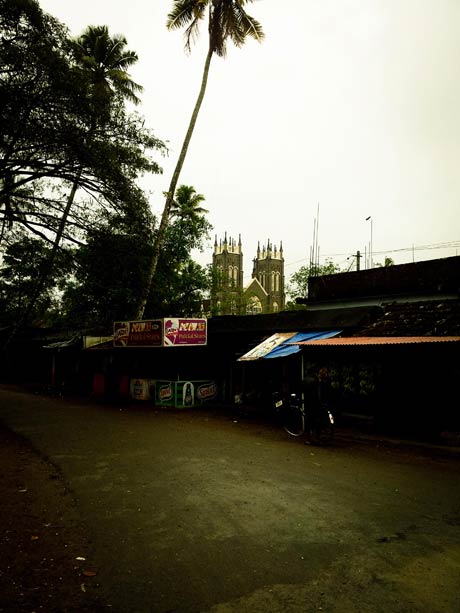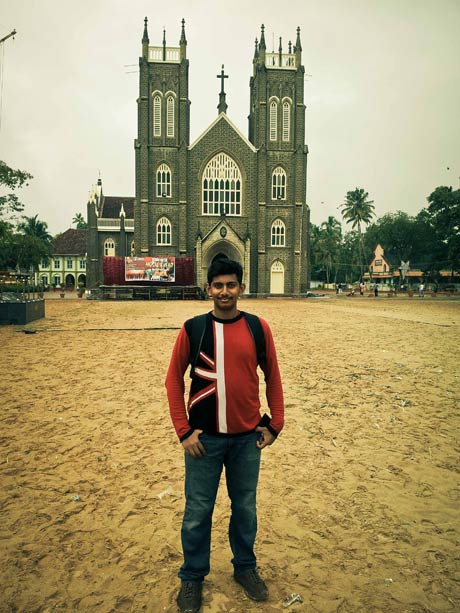 (Google My Tracks started malfunctioning from there. The data showed that our maximum speed at 265 kmph. And GPS was sucking up the battery of my Galaxy S2. I checked the route we had to then take to our destination and it said 22 kms from there.)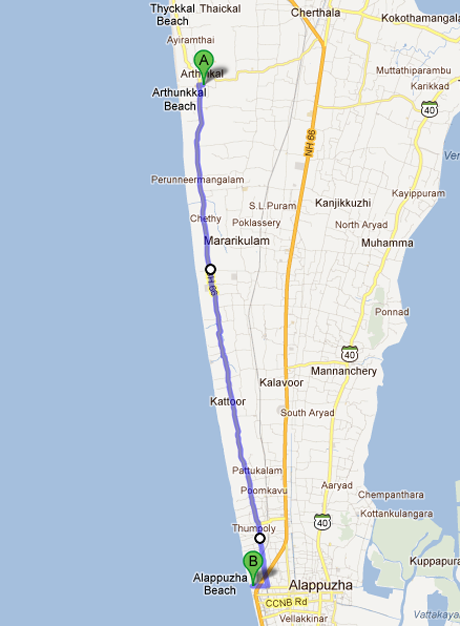 The rain made the trip even more exciting. We were wet all the time. And it was cloudy all day, so we never had to use the sunscreen. The only downside was we couldn't take pictures. I managed to get some with my phone, but by the time we reached Alleppey it was raining so bad that the phone got wet and I stuck it up in my backpack. I had carried my DSLR too, which never got a chance to come out.
Our next destination was Mararikulam Beach. We bought Bananas on the way, and went all the way to the beach. Its a beautiful place to be. It was almost empty mostly because it was raining. There were fishermen working on the beach. We also found a great home stay nearby, the cost per night is just 1500 INR and the beach is so close by that it looks like a private beach. Awesome place to be in on a rainy day! Am going there again sometime.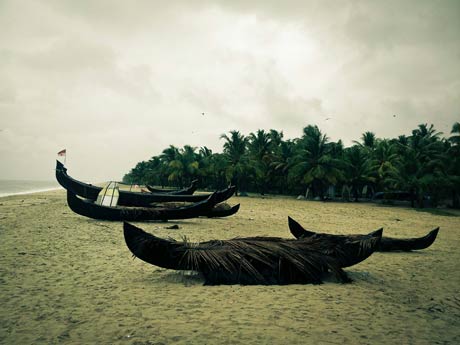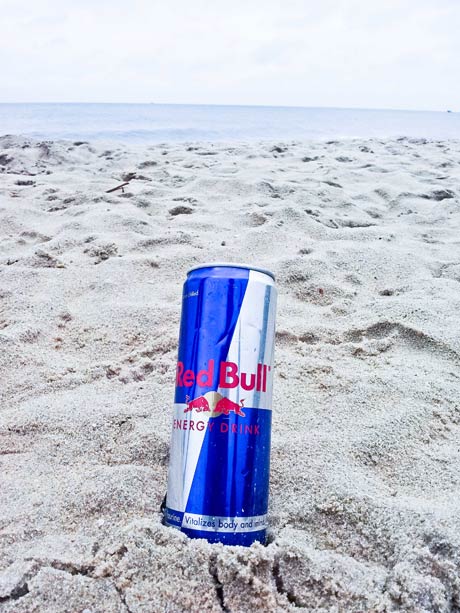 (Later when we were at Alleppey looking for a Toddy shop to have our lunch, one guy told us that we should have tried the Toddy shops at Mararikulam. He said they are awesome. We missed that.)
After about an hour of riding we finally reached Alleppey. 65kms! It was about 11:30 and we went to the beach first. Then when we got really hungry we decided to have lunch. We had Toddy, Tapioca and Fish curry. Awesomeness in a plate! cheap.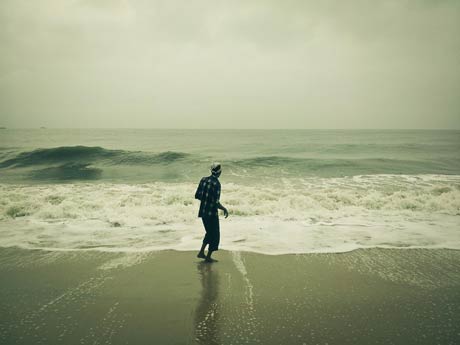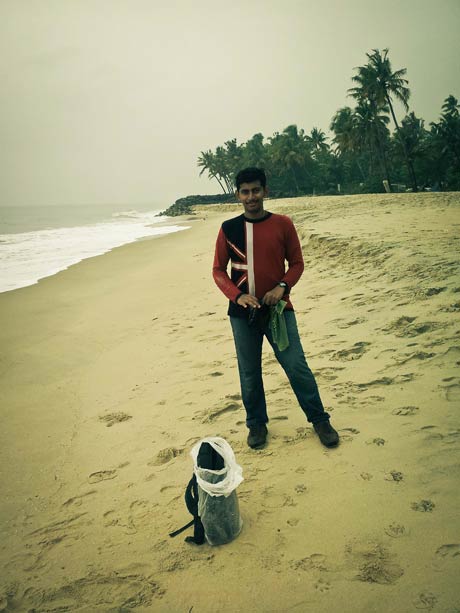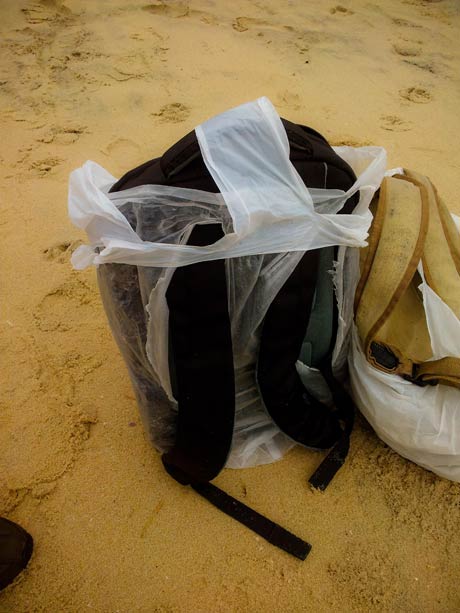 Lunch called in for a rest and we found a place under a Banyan tree. It was still raining pretty good.
The way back was tedious; we chased back the exact same route. Honestly, there were times when one of us was so tired that we couldn't move a bit but then the other one kept pushing. We were a great team.
I never really got to know the effect of Red Bull until this day. When I was so tired and couldn't move a bit, half a bottle of Red Bull would boost everything. One shot would last for the next 30 to 45 minutes.
We did spells of 20 minutes of cycling and then a 5 minute break. My seat was so hard that my butt was seriously hurt. At the point of writing i.e. now, I still have little pain down there esp. when passing over a hump or a bump on my bike.
We were so exhausted that we could actually feel even small rising of the roads that otherwise we wouldn't notice at all. While climbing up a bridge my leg would start burning up right from my feet up my thigh till my hips; sometimes I couldn't make it to the top of the climb.
But we still made it, pushed ourselves over and over and had shots of Red Bull and with regular breaks. We got home at around 8:15 covering 130 kms and so much fun! Got rid of our sandy dirty clothes, bathed and fell into the bed. It was time for New Year Celebrations to begin!
We woke up the next day and on contrary to what all our friends said, we were perfectly okay. I am quite happy with myself considering that for the past 5 months I had been sitting on a desk all day long with very little physical activity. Yayy!
More Photos of the Ride
2011 was the Best Year Ever!
The midnight of 2010 December 31'st I was in the Tata Jagriti Yatra, in the train, travelling somewhere from the South to the North. I was sick and spent the night wearing a monkeys cap, watching others dance and occasionally coming over to squeeze the boob on my cap 😛 From there, the year went to the heights of awesomeness.
Ending the Year with a bang. Cycling till Ass Bleeds 😉
Best Year ever! Hope I get to say that every year 🙂
Resolution Desk
Every year I make a huge list of New Year Resolutions and usually I never beat any. This year, I just had three and I beat them all!
Learn Swimming: I did learn it. I am not beach or ocean ready yet, but I am not afraid of water anymore, and I can keep myself afloat for a while. That's something.
Take Passport and use it: The Indonesian Trip. When I took this resolution my choice of country was Malaysia, but life has its ways I guess.
Set-up a passive income source: Well, when I wrote this down, I had a different set of ideas. But lately my Blog Million Clues has turned into a passive income source. Adsense and Affiliates are working well and the need for money made me figure out more ways to make money out of it. Necessity is definitely the  mother of all inventions.
Having done them all, I have made a slightly bigger and more challenging list for 2012:
Learn a New Language.
Learn Web Design from basics and perfect what I know.
Sky Dive
Use my DSLR to take one picture a day. Either upload a picture a day, or upload 7 pictures over the weekend!
Move from Cochin, too bored of this city, its mosquitoes, dust and traffic.
Read 5 Books
I wish you a very Happy New Year! Gingalala….