If you happen to watch any TED videos, you can see that all speakers browse through their slides using a remote in their hands. Looks pretty cool, but the cost of a Presentation controller is not very.
My Laptop (Dell Studio 15) came with a Bluetooth mouse. It looked just like a mouse at first, soon I found 2 extra keys on the side, couple of hours later, two more hidden buttons were revealed.

These extra buttons can be configured to do a cool bunch of operations like minimize all windows or close windows and so on. The buttons on the side are forward and backward by default.
Open up a Presentation and you can use these forward and backward buttons to move through the slides. Hold the mouse in your hands and it is you presentation controller.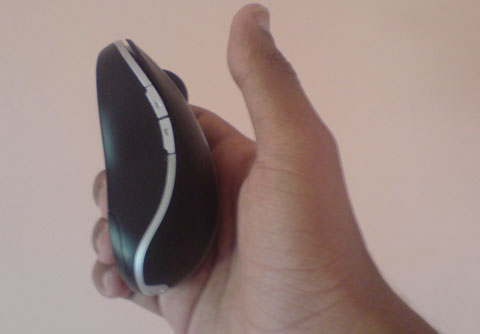 The phone is not a phone
In fact, its not just the mouse, most cool mobile phones out there can be used as a remote to control slides. I paired up my mom's Sony Ericsson k810i with Windows Vista and the phone asked me if I would like to use it as a presentation controller. Kinda cool.
If your phone doesn't have something like that, probably there is a good free software out there to make it one. Google FTW
Takeaway Tip: Take your next presentation in style, you already have a bluetooth controller with you.