BarCamp Time once again! This time it would be at MACFAST – Mar Athanasios College For Advanced Studies Tiruvalla on 28th of this Month. Yes! that's close.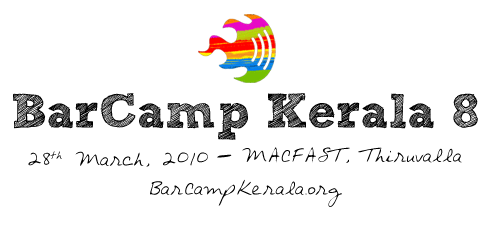 I had been attending BarCamp Kerala since 2008 starting with BarCamp 3 and BlogCamp Kerala before that. Everything changed ever since.
So what makes BarCamp 8 Special and why should you attend?
For the first time we have a sponsor, the college itself is sponsoring the event.
That means you get free Food and Stay in case you need to 🙂
I am taking a session for the first time at a BarCamp, though I had done one extempore session before at BCK 6, this is gonna be the real one 😛
My session is gonna be a demo of Building Websites with WordPress, inspired from the response of the Demo part of my presentation at CET, Thalassery.
The Demo I have in mind would start from ground zero i.e installing WordPress Core, WordPress Themes, Plugins to Blogging with WordPress. I would also show how one can totally personalize their WordPress blog by editing their Theme and adapting plugins to their need. The exact things I do on most of the Web Design Projects I get.
If you need more reasons to attend: There are 13 other sessions registered so far and 94 awesome attendees.
For Starters…
BarCamp is a technology enthusiasts meet. No, its not a Bloggers meet (as many of my friends at college would say) or a Geeks Party.
BarCamp is a unofficial meet of some cool people who love technology and the web and BarCamp is an excuse to get out of their computers and meet some real people.
A BarCamp is an un-conference, which would convert into – No welcome speech or Vote of Thanks, No Formalities of a meeting, Open Forum where you can talk anything and have total fun.
At BarCamps, we have fun, jokes are cracked every now and then, we have good food and yet another day to remember.
You are invited!
Come over, it will be like nothing you have ever seen. Inspiration Guaranteed!
Register yourself if you are thinking of coming, its free. If you are attending do let me know via comments or email. Lets catchup 🙂
Why don't you take a Session?
If you have anything interesting to say, there are lots of people would would like to hear you. It could be about anything, like your experience with a project you did, the stuffs you learnt by doing something or your life story or anything that you think others can make use of.
You don't have to be a Guru to talk at a BarCamp. Add your session.
If you are not attending, keep track of #BCK8 tweets, we have live tweeting every time.
P.S: This post was NOT generated using the BarCamp Kerala Post Generator by @BinnyVA which is made for the lazy guys. Am not lazy 😛