Last week, on 30th, I attended the Canon Digital Photography Workshop at Abad Plaza, Cochin. It was my first serious step into Photography and so I was really looking forward to it.
I didn't want to be late, so I set out really early in the morning (had a plan to see a guy before the event which was at 10:30 am, thanks to the slow ordinary bus, I missed the meeting, but was really early for the workshop). From what I had known from my friends, I had decided to get off at Kacherippady bus stop; I didn't bother to ask anyone where it was, by the time I asked someone, I had missed the stop.

I got off in front of Sunny Diamonds, well, this stop is much closer to Abad Plaza than the other one. It was my lucky day!
So I reached the registration counter and was prepared to pay Rs. 200 as mentioned in the invitation. But they didn't ask for any, gave my name and visiting card (yay! I got plenty of them 😛 ).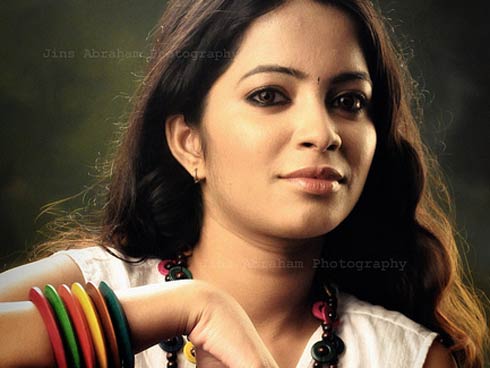 There were about 10 guys inside, and by the look and feel I could say that they all were professionals. I found a guy who looked more like an amateur near the front row.
Okay, here is the deal – I forgot his name, but I have it on my notepad. I kept my notes in @BinnyVA's carry bag and left it there. He is supposed to send me the scans by now, well, he is super busy, so that will have to wait. Notes from the camp will come up once I get it 😉
Update: Got his name, he is @mahadevaniyer.
I saw coffee being served on the sidebar (?). I was not sure if it was free or paid, so I waited. Then I saw the guy in front of me, one Mr. Binil, (he gave me his card), having coffee. So I followed.
Right after I finished coffee, @Jinson and @NeenaNair walked in. I remember Neenz from BlogCamp Kerala 1, but I couldn't recall Jins. He could recall me, so I was in an embarrassing situation. Anyways, we got introduced. (After reaching home and some digging up, I found him here, now I remember!)
Our resource person, Mr. Balan Madhavan (@WildFrames) came in with his Mac (oooh!). Lights went down, and a Canon Feature Video came up on the huge screen.
@BinnyVA came in from nowhere and took a seat near me. Balan sir introduced himself and started off with some of his shots.
The aim of the photography was to enlighten the Digital SLR users about the possibilities of their gear and make then get the most of it.
The morning session was about the technical aspects of the Camera, and how the Digital concepts are related to the old film photography concepts. Mr. Balan knows everything so well and his examples were so to-the-point.
I had the feeling I had at BlogCamp Kerala 1, the feeling of an alien, but I tried to keep up and took notes. BlogCamp Kerala 1 proved to be a milestone in my blogging career and I hope this one turns out to be one for me in Photography.
After a while we spotted @BinoyXJ on a back row. He was my companion for the rest of the day. We had great free lunch (discovered: there is something called Free Lunch, find out where the next Canon India Workshop is 😛 ), and had lot of fun at the Social Media Meet up later in the evening.
I was surprised to meet @KarmaDude, I thought he had left India. Next surprise came in the form of @ShalvinPD, he too is into photography! Also met @Zuhiboy who is a fashion photographer himself.
[@BinnyVA just sent me the scans of my notes, so here they are, just in time. And this link is a thank_you for his effort, no he didn't ask for it. Go check out – http://binnyva.com and get a hang of #BinnyVA]
Notes From Canon Photography Workshop
For clarity, let me introduce the least effective way for the human brain to remeber – Bullets ;). All thanks to Mr. Balan.
Digital Photography is ever improving, so if you are buying a Digital Camera, buy the latest. The latest would have all the issues fixed as compared to its ancestors.
Raw Image Format is called "Digital Negative". Shoot important shots in Raw. Raw format allows a lot of post-production edits. Also if you have to file a copyright claim, you need raw image to show that you shot the image.
JPEG is not compression, its removing the repeated pixels. JPEG is finished image, the output and not recommended for post-production. Shoot in Raw if you are planning of post-production edits.
Adobe Lightroom is a recommended software for editing Raw. Costly option.
Buy the oldest and one of the cheapest accessory that can improve your shots dramatically – The Tripod.
We talked about Exposure Bracketing and HDR.
Its not all about how many Mega Pixels you have, the size of each Mega Pixel vary. DSLR cameras have bigger sensors. So an image taken with a 8 MegaPixel Mobile Camera, 8MP Point and Shoot Camera and 8MP DSLR, all three will be different. DSLR will be far better.
Show the world only your best shots, trash the rest.
Always transfer pictures to a studio computer via CD Rom or DVD. There are viruses that affect camera's software and many cases have been reported.
Buy a Desiccator Box to protect your gear.
If you cannot afford a Desiccator Box, buy an air tight, transparent pearlpet jar, buy a packet of silica gel (about 500 grams), make a layer of Silica Gel first, cover it with a dry towel and store the camera on it. When the Silica Gel turns white, remove moisture from it by heating in a microwave.
One thing I really understood from the camp is that, they all are damn serious about their profession. They are ready to go to any extend the situation demands and buy any equipment no matter how expensive they are. I met an old guy who had over 3 lack rupees worth of gear in his bag.
The afternoon session was a practical session with a real Model (Mumtaz). Lighting up a model using minimum lights was discussed.
Overall, I found it really effective. I got to meet a bunch of cool people, thought I felt way out of the league 😉
P.S: Dad bought me a Canon 550 D the day after the camp, un-boxing pics will follow.
Social Media Day @ Cochin
Mashable had declared the same day as World Social Media Day and so we had a Social Media Meetup there after. Basically all those of us who use Twitter, Facebook and the like met at a cafe and had some drinks 😉
Me, @BinnyVA and @BinoyXJ walked to a nearby cafe, Coffee Cube. @ShalvinPD came in with his wife. Then came @KarmaDude (or maybe in the reverse order). @Zuhiboy came in, then came @Praseed3point14. @KenneyJacob also came in. and that was it.
We played some crazy naughty game, what is it called? some Jiggle I guess 😛 Had a couple of very expensive drinks and talked about everything under the sun. Saw some superb works of @Zuhiboy on his laptop.
After the meet, we said good byes. I came home with @Praseed3point14, he gave me company till Aluva Bus Stand, I got a Kothamangalam Bus and I came home. Lets call that a day!
p.s: Mumtaz's mobile number: 9995394558 ( I kept my word!)