I am a typical freelancer. I never really delivered on time, I can't remember a time I delivered everything on time. Luckily, I never had to work on time critical projects where the whole world would blow up if I wouldn't deliver.
Last day, @TheAnand shared an article with me, actually its much more than an article. Some famous designer with the name David Airey shared on this blog a speech by Neil Gaiman. Here is the take away (speaking on how how freelancers really get business):
"…because their work is good, and because they're easy to get along with, and because they deliver the work on time. And you don't even need all three. Two out of three is fine.

"People will tolerate how unpleasant you are if your work is good and you deliver it on time.

"People will forgive the lateness of your work if it's good and they like you.

"And you don't have to be as good as everyone else if you're on time and it's always a pleasure to hear from you.
So you get business because you have two out of three from:
Being Good at What You Do
Delivering On Time
You Are Easy To Work With
So that gives me something to brag about 😉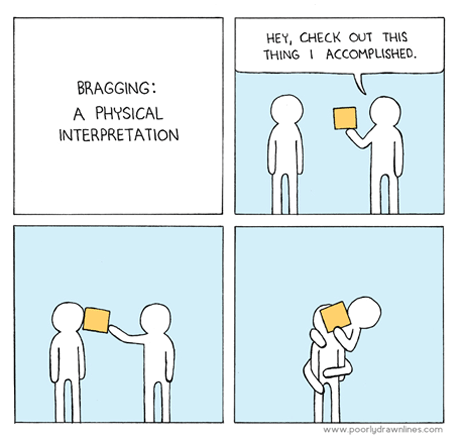 You may ask why? Anyone who have worked with me would agree that I am Easy to Work With. Like I said I don't deliver on time and I get business. So I must be good at what I do. Guess what? I am!
When I first heard of it, I didn't buy it, but the more I thought of it, I felt its absolutely right. If you deliver on time, even if you are not supreme, your clients would love you. And the same with any other combinations.
Food for thought!