Last April I set out on a journey without having any plans on when to return or where to go to. I was dealing with some stuff and wanted an escape. A journey that was soon to become the best trip of my life (so far). Little did I know at that time.
It all started in my 6th grade when this guy, Aswin A. Mohan came into my school and found a place right in front of me. We clicked. We got the same scoldings from our teachers and if we are ever asked to write an essay on "A day to remember from your school life", I am pretty sure we both would have the same story to say.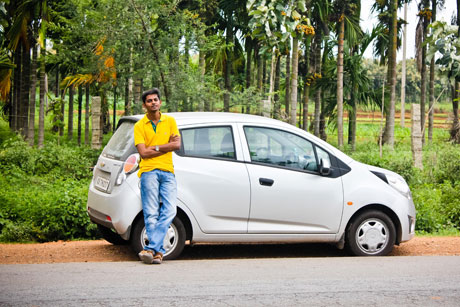 After school, we went to different colleges and wasn't well in contact until this day in July of 2012, when he called me up saying he is stationed at a place called Davangere, in Karnataka and that he has a place. I was going through a personal crisis at that time and the doctor had prescribed a change of scenery, so I didn't have to think twice before boarding the bus to Davangere.
I stayed with him for 3 weeks and at that time, it was the longest stretch (I have lived away, but I return home weekly or bi-weekly) that I was away from home.
Chapter 1. Davangere.
And again this April, my trip started with me finding my way to Davangere. Only this time, I knew exactly what I wanted the moment I got down. Benne Dosa's. The delicacy of Davangere.
After the stuffy lunch from Akka, the house owner who treats us like her own, we had to had to get some Benne Dosas. Now whats so special about Benne Dosa you ask? Think of a Dosa made with butter in it, fried in butter, with lots of butter cubes on it, served hot, with a ball of smashed potato and the best coffee of all times. Couple of those will knock you out.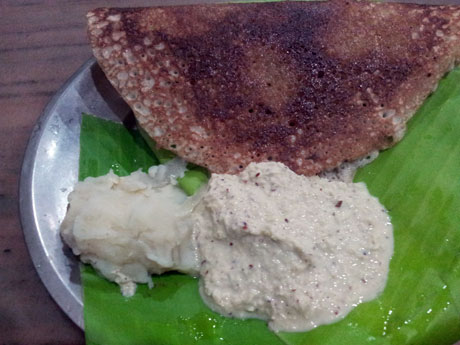 Now you probably have never heard of Davangere before, so let me tell you about the place. Its a small town about 260 kms from Bangalore, along the Pune-Bangalore highway. Except for the students in the medical and nursing colleges, the majority of the people represents the people of a typical village in India.
But do not get the idea that Davangere is yet another village, because it is not. There is a super-clean public swimming pool, two parks open to the public, quality places to dine and bite, a CCD and lots and lots of small hangouts and food joints. Its definitely not some town to party, but if you want to live a quiet (yet not boring) life, you need to try Davangere.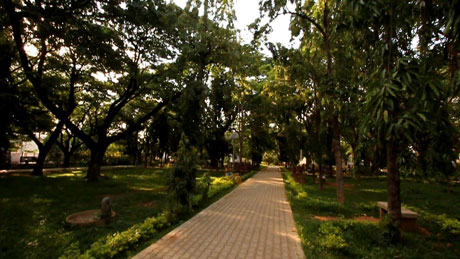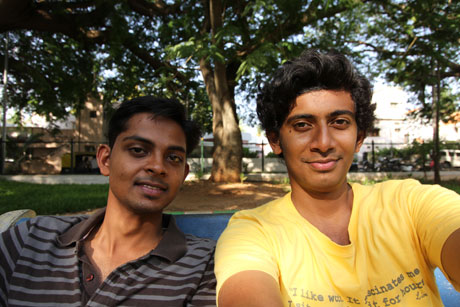 So, every evening we would spend some time at the park, usually looking out for colors and occasionally making contact with one or two. This would be followed by a dip in the swimming pool, again making few friends and acquaintances. Apparently its easier to connect when you are almost naked. Usually followed by eating the best burger ever and a movie or a hanging out somewhere chatting up.
Back to the best burger ever. There is an outlet of Bangs Burgers in Davangere (another highlight), and for me, the burger from Bangs is the best I have ever had. Remember when McDonald's came up with a McEgg burger? It sucked. They should learn how to make egg burgers from whoever came up with the Bangs Fluffy Egg Burger. A Bangs Chicken Burger and french fries is all you need to be satisfied for a whole evening. You could try the Big Bad Boy Burger, but the chicken-to-cheese-to-bun ratio is more enjoyable in the Bangs Chicken Burger. We were regulars.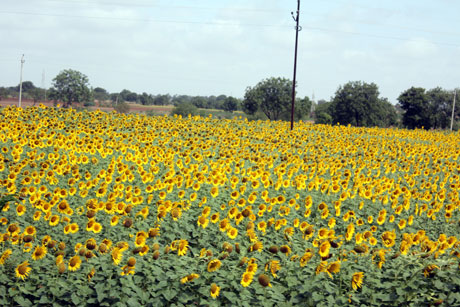 There is no bigger pleasure than hanging out with your best friend. And no matter where you go, its always fun. Like the movies we have seen together. Lame movies were so pleasurable, I realized that the experience of watching a movie depends on whom you are watching it with. It was in the August or 2012 that I started watching movies at the cinemas again (which I had left off during the final year of college), all thanks to this revelation.
This one day, when I was alone at Davangere (since Aswin was away for work) and I had this idea of making a video of our nest and whatever we had in there. And I came up with this video. Its rough, but I hope, 10 years from now, it will make both of us all nostalgic about the life we shared.
Chapter 2. August of 2012.
Flashback mode. This was the time I had sleeping troubles. All those late nights when in college, staying up online chatting up or tweeting late into the night when others call you inso-maniac and taking that as a compliment, got real. I wasn't insomniac because I would fall asleep eventually, but not when I wanted. It would take 3 hours or so, just to fall asleep. Going to sleep had became a chore.
Two days into the trip and I was sleeping better than most babies. I never had a problem with falling asleep ever since. The trouble was and still is with waking up.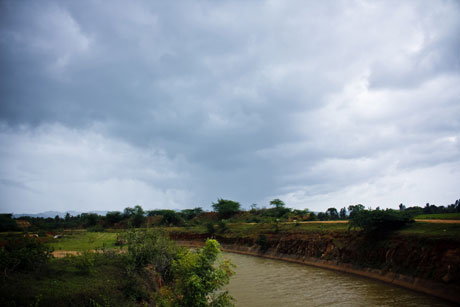 This season, we went to Jog falls, the highest waterfall in India and climbed down the 1400 step descent to its base. It was raining that day. The road to Jog through the picturesque green meadows soaked in the rain was as good as the view from down below the waterfall. August was the perfect time to visit Jog.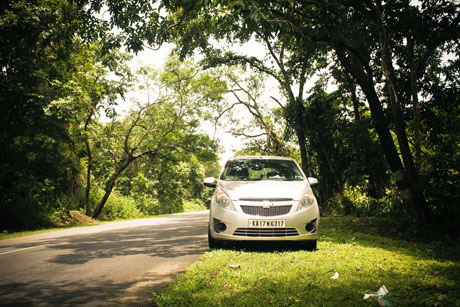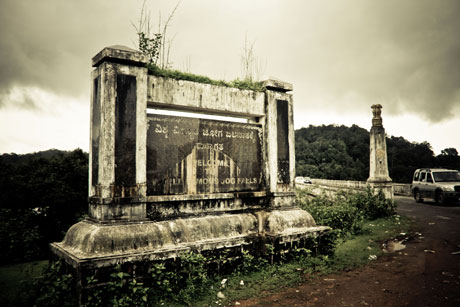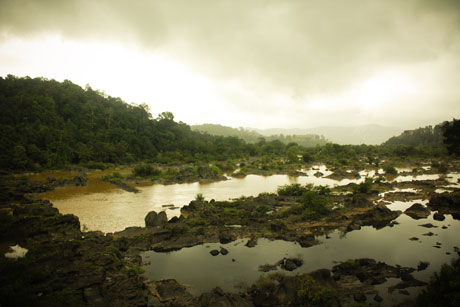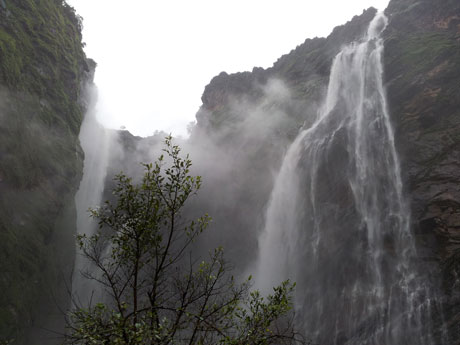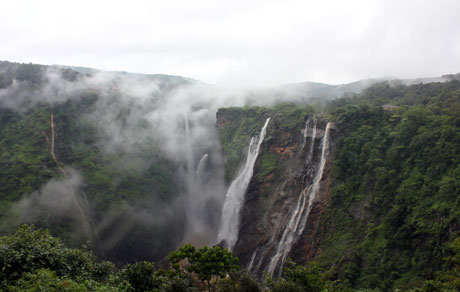 Another touristy place we conquered was Hampi. While the temples and architecture teased the photographer in me, Hampi had more surprises waiting for us. We were hungry, so we found a restaurant that catered to foreigners. Apart from this dude who was reading his book and sipping Pepsi, the place was deserted. We had to dig up water from a well to wash our hands and our hopes sort of fell into the well. The menu came out with misspelled exotic names. In our desperation, we asked the guy, whats available and he said, "everything". Our day brightened up!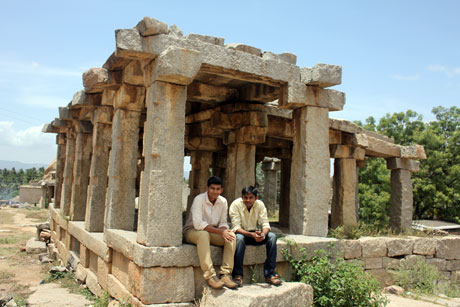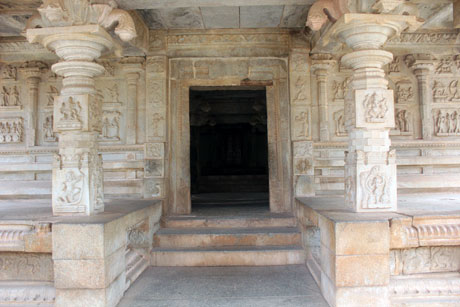 I picked pan cakes with honey and lime and a cheese omelet. I have to say, I was mind blown with the food. In fact, it was the second best food I had in that trip, only second to Benne Dosas. Or we could give them a tie for the first place.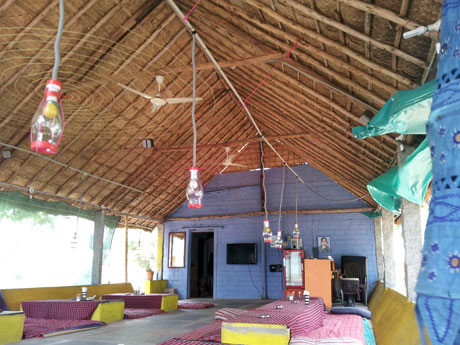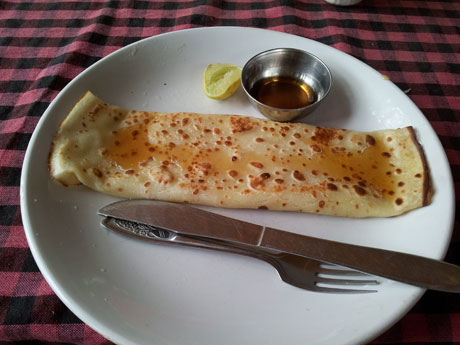 Thanks to the Pune-Bangalore highway, a 4 hour ride from Davangere will get you to Bangalore. And we went to Bangalore twice. This was the time I did my annual shopping for the year and for Dubai. I bought everything and more. To me, Bangalore is one of those over-rated places where we think we are gonna have lots of fun, but the only fun you can have is watch your bank balance plummet to the floor.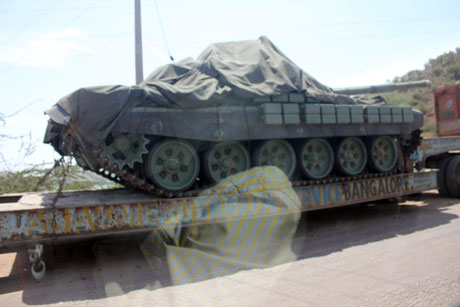 The return journey presented me with an experience of a lifetime when I slept off in the bus to wake up in a town about 150 kms away from my home on a Monday morning. All the comfort the dual-axle AC volvo provided was lost in the 5 hour gruelling journey back home in a KSRTC that probably had no axle. Always have someone to call you up at your stop. You can't expect the crew to be responsible. Lesson Learned.
Chapter 3. Revisting Manipal
My first ever trip to Manipal was in last March with Kittu Jayaraj. Ever since we lost him, Manipal meant more than just a beach destination for the ones who knew him. In fact, I believe that it was the realization that my time is up any moment now that made this escape, the best ever.
We reached Manipal the night before May 1st. It was election season in Karnataka and there were road blocks everywhere. But unlike the police officers in Kerala, these people addressed us 'sir' and dealt with us quite gently. Finding a hotel was another thing. One might think that in a place like Manipal you can just walk into a hotel and find a room. Sadly, that night, every door we knocked on was full until we found a hotel that had only a suite room. Oh well.
Now my friend Aswin didn't know Kittu, but for me, this was about retracing my last encounter with Kittu. We went to the same spot where I met Kittu the other time. We had subs for breakfast. Then after some roaming around, we finally ended up at Malpe beach. It was a sunny day and waiting for the sun to go down in the shade of a hut meant looking out for eve's and enjoying a fish biryani alongside beverages.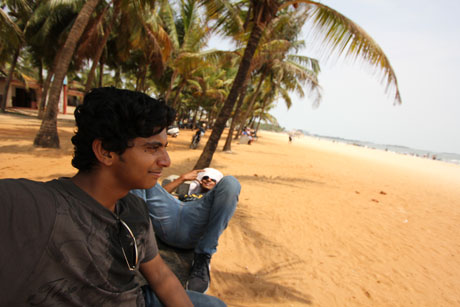 I have been to many a beaches. As far as some in Bali. Owing to my limited swimming skills, I never tried getting my clothes wet in the ocean. But now things were different. We went deep into the ocean, so deep that at one point there was only the two of us and another guy, Prasanna, who turned out to be our neighbor from Davangere. Strange place to make new friends.
On the beach, there was this guy Raguram, who builds his own telescopes. No, not some random guy who sells them, but a professor and a scientist with many patents in his name. His telescopes could read names of boats as far as 10 kms away.
After the dip in the ocean, and the jet-ski and the para gliding, it was time to checkout some night life, but we needed a shower. And we did it in the open. One year of hard work at the gym and a strict balanced diet meant I could now flaunt my abs and walk around semi-naked with confidence! And we did.
Nightlife in Manipal, as far as I know, is isolated to a few clubs and pubs. More like most towns in the country, you wont find people walking around on the streets. Its pretty much deserted. But thanks to the student population of Manipal, the crowd in these party houses are, whats the word am looking for, lets just say, 'interesting'.
After checking out some more colors at the Blue Waters club, we drove back to our sanctuary. One hell of a day.
In fact, of all the small towns I have been to, Manipal would be near to the top-ten-places-to-live-and-work for me. For a working dude, the town is cheap, filled with fun activities and party.
Chapter 4. Mangalore.
Life takes you through some pretty terrific journeys and this time it was through the scenic hair-pins curves along the sides of the western ghats and through pine wood forests and long stretches of roads covered with greenery on its banks. The ride from Davangere to Mangalore is a tease for anyone who likes being behind the wheel.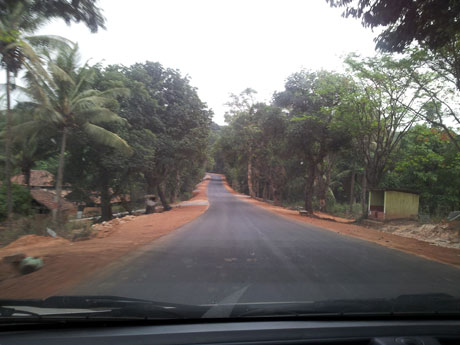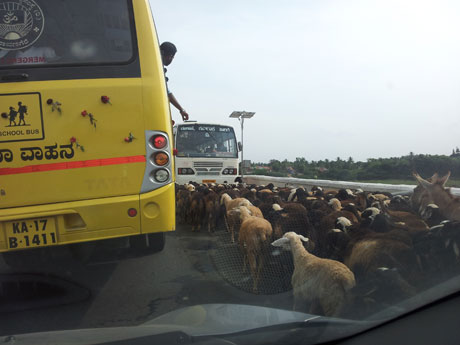 Here is a short video of me riding through 15 hairpin turns of the Agumbe Ghat section: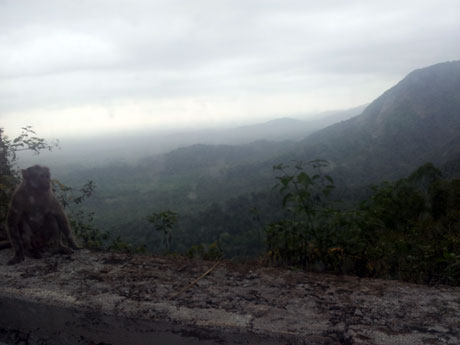 After a quick bite at KFC in Manipal, which is on the way, we reached Mangalore late one night and checked into Ginger. This is where I would rethink my strategy for the next few months and decide on my next move, speaking business wise.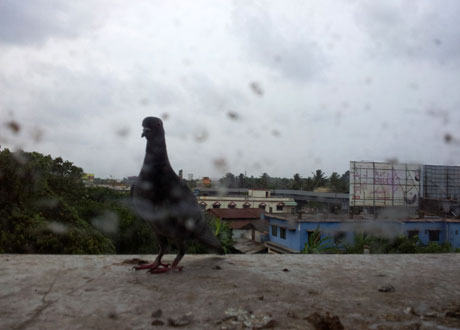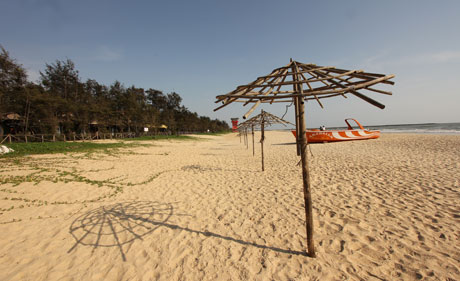 The stay that lasted for a week let me explore the local malls and enjoy almost every local flavour that I came across. They have this Chicken Ghee Roast, which is by far the best chicken I have ever had. Its Chicken roasted in lots of ghee and comes with a thick gravy on top of it. Yumm!
Aswins colleagues who were also staying at the same hotel filled up my evenings. All the people that he had talked about, Ashish, Parag, Manas and 'the' Chaitanya sir made dinner alive. Not to mention the late night 'chilling' on the beaches nearby and checking out local night clubs. There was even a night where my nose caught on fire. Quite literally. Good times!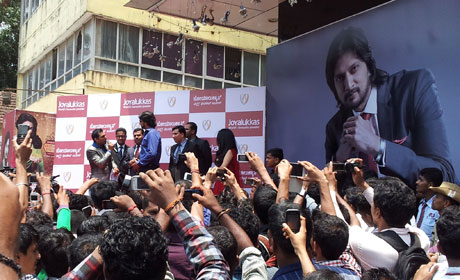 Someone recommended a place near Ladihil that was supposedly famous for its fish. And that someone was right, because the Fish Masala Fry at Swarna hotel blew me up. Now, I wouldn't dare say that the fish was better than what you get in Kerala, but when a Keralite says a dish that involves fish is good, you better take his word for it.
The last day in Mangalore, I went out in search of an ice-cream parlour with the name, Ideal Ice-creams. Now, when you think of ice-cream parlours, you are thinking, quiet place to go on a date, with some 5 to 8 tables. Now think of a 5 story building. Each floor with at least 40 tables. And still with no table to spare at the peak hours. I had to get one at the counter and share the table with a few local folks, who were kind enough to suggest me their favorite ice-cream from the long list of varieties they have to offer.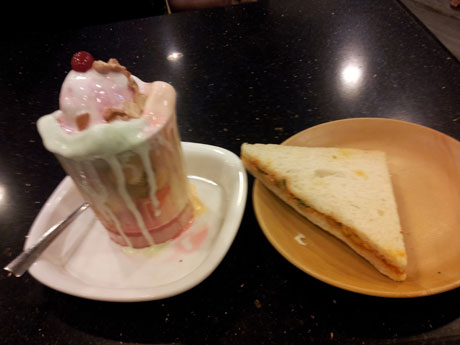 That very day, The Hindu featured one R.B. Juice Centre at Falnir (near Athena hospital) where you get drinks made out of tender coconut. I couldn't leave Mangalore without having both of their specialties – The Cold Bonda and the Bonda Milkshake. Finding the place was a menace though, apparently some Mangalorians think that taking the free-left at a junction is the same as going straight.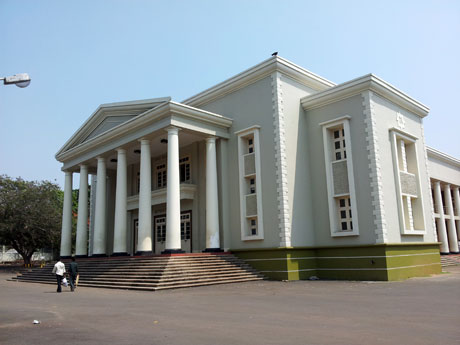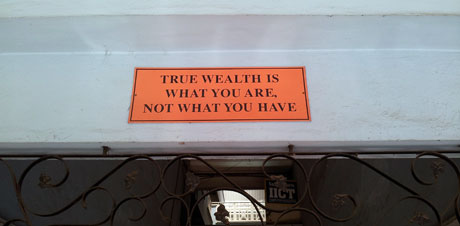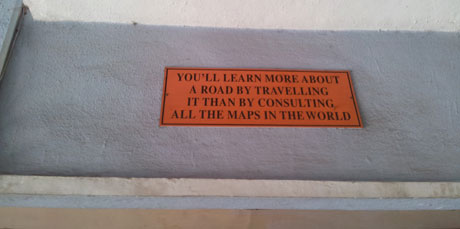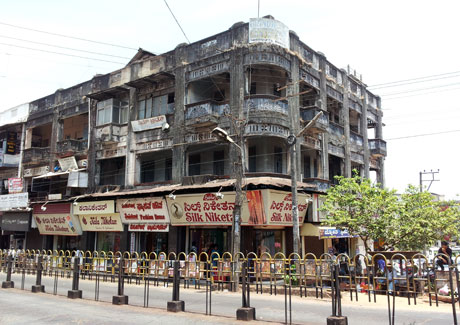 Riding back home on that Saturday night, with Aswin sleeping next to me, listening to Adele singing her heart out made me think of all the turmoil that went through me over the last year or so. When shit happens, it happens and there is nothing you can do about it. And if it doesn't kill you, it will only make you stronger.
Chapter 5. Mumbai.
One peculiar stranger whom I met at Blue Waters in Manipal rated Mumbai at 70 on a scale of zero to hundred, alongside New York city, which is supposedly the greatest city in the world (all subjective though) and she is right! If my heart craves for any big city, Mumbai is where I will find peace.
Every trip to Mumbai has to do with something major in my life. This time, I almost got married. The whole story demands another inspired morning and a whole another article to iterate. In fact, the peak of this adventure was the wedding of Sumit and Namrata and the week long party of a true Indian wedding. I am pretty sure I wont enjoy another wedding as much as I enjoyed this one in the foreseeable future.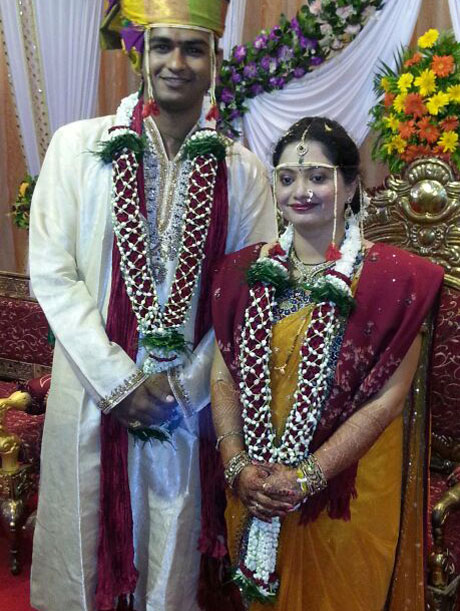 The final day in Mumbai made my stomach upset and I actually came back to Davangere wearing an adult diaper. Who would have thought that I would be doing that so early in my life. I didn't want to take any quick action tablets because your body reacts in a particular way for a reason. But in retrospect, I think I should have. lol.
Chapter 6. Chennai.
I had Chennai on my bucket list for quite a while, but no intentions to go there this season. Again, you never know where life takes you. And I went to Chennai.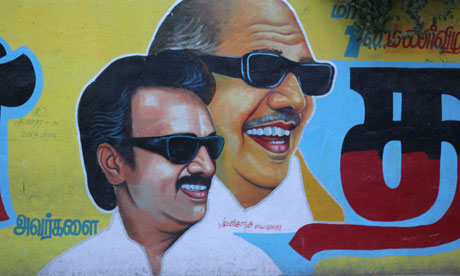 Maybe I didn't see the good parts, maybe one needs to know where to look into, or maybe there isn't anything good about Chennai except for the truly amazing coffee and Dosas at Saravana Bhavan; Chennai was nothing like I expected. I even wondered why they call Chennai a metro. Then again, I didn't see all of it.
Chapter 7. Way back home.
One more week into the trip and it was time to go home. Not because I was home sick, but because I had unfinished affairs back there.
On my way back, I kept thinking about what the whole trip meant to me and what does it meant to be a traveler. Some random thoughts.
The lessons that you learn when you are out there in the world is invaluable. Like how to deal with a leaking gas cylinder (you take it to an open space and let it leak through. If it catches fire, keep pouring water on it to keep the cylinder cool and prevent an explosion) or how they clean the hot plates each night after cooking all day (with broken pieces of brick!).
Being a been-there-done-that guy gives immeasurable confidence to the spirit. This is a very subtle change but that goes a long way, embedded into every thing you do.
Traveling opens one up. You tend to realize how little of the world you have seen and gets humbled by the amazing people and incidents you have had on the way. You can easily spot a travelled person by how receptive he or she is and how easy it is to be with them.
A major part of life is about the people you meet and the things you do with them and the stories you share. Traveling lets you meet amazing people and that's invaluable. Like Sudesh mama who knows everything about everything!
Figuring out how they do it. How and what they live and what they eat and how they cook their food.
Its one of the few logical things to do with your life.
After being out there for 50 days, I came home. The lines of Idina Menzel from her song "A Hero Comes Home" decorated my Facebook status: Though wide he may roam.. Always, A hero comes home!