This is a memoir I scribbled on my notebook on 19th April 2014, while I was in Bhuj, Gujarat. I had to leave my journey unfinished and return home after Gujarat to help with my sisters marriage.
Although the dream of traveling India is unfulfilled, I still consider this journey a successful one, because I found what I was looking for. But that calls for another article.
---
I like to think that there is a plan in all the random things I do. Truth be told, I am not a man with a plan. I know what I want or part of what I want and the rest always evens out for me. This is the story of how every piece fell in the right place for me and how I got to start my discovery of India.
I first dreamed of this journey sitting in my college classroom. Of course at that time, it was only a dream and my idea was to do it at some point when am ready. Many people and experiences had to come into my life for this dream to transform and shape up into a reality.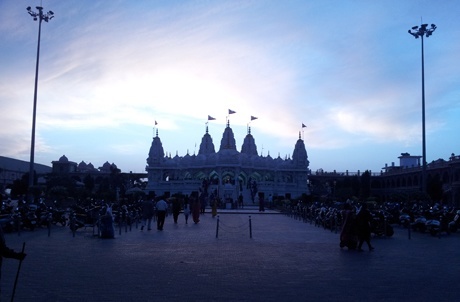 Mason James. He had the most important role in helping me put this to shape. Mason is from Sarasota, Florida. We used to work together at one point and he told me how he wished to travel far and wide. Normally I do not open up my dreams to anyone, but then I told him about my intention to travel and we got excited. We got so excited that we started making real plans. We called it 'The Indian Adventure' (man, I really need to come up with cooler names) and it got on paper for the first time. This was in October 2012 and we decided to start on September 15th 2013. The day after my 25th birthday.
Days and moths passed. Life happened. The plan, which in itself was nothing but a rough list of where to go and what to see and what to do, kept growing. I went on a 50 day adventure of South India and realized that long term travel was actually not that hard and totally doable. To accommodate personal obligations, the date was pushed to December 2013. A ticket to India was booked. I bought the jeep that would take us around. Feel in love with Matilda. The stage was set.
More life happened. This time it happened to my friend Harikrishnan too. One evening as I was chilling at his place he told me, lets start the journey and let Mason join in later. I slept on it and spent time thinking and decided that it was time to go. I had to reach Mumbai by February 19th anyway. So it was decided that we would start in the first week of February.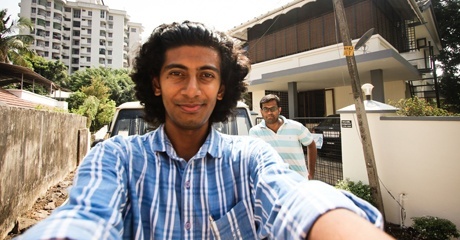 I visited a lot of my immediate family, did some shopping and said a few goodbyes.
The last 4 days were really intense. My dad and I visited the Joint Regional Transport Officer at Perumbavoor, Mr. Shaji Madhavan, to know if I needed any documents for long term travel. I needed none, but he advised to get a note from the Superintendent of Police. He also advised to collect all the toll passes as a record for travel.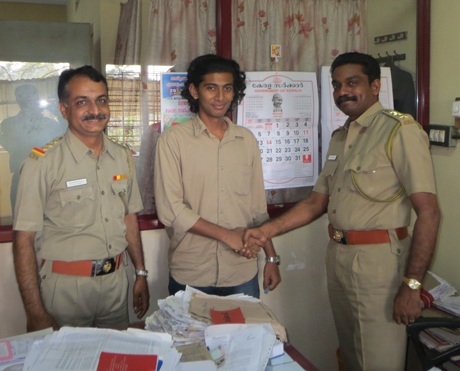 So we met with Shree. P. P. Thankachan (Former Speaker of the Legislative Assembly of Kerala and UDF Convenor currently) and got a note from him and then met with the rural S.P Mr. Sateesh Bino IPS. He was excited about my plans. He arranged for a police verification and made arrangements to issue a certificate that says I am from so and so place and that I am traveling the country.
I visited few more relatives the day after and packed my entire life up into couple of boxes and a backpack. Looking back, I over packed and that was evident from day one. There was too much stuff that it was hard to find most of them. Packing went until 4 in the morning.
February 3rd, 2014
I loaded up my jeep with my stuff. I had my entire life in my car literally. I would never return home as the same guy.
Hugged everyone, shed a few tears, said goodbye to my room and started out with Dad. We went straight to the office of the Superintendent of Police to collect the certificate he had promised. That took a while but by noon we had what we came for.
Hari came to the office himself. SP wished us good luck and flagged us off.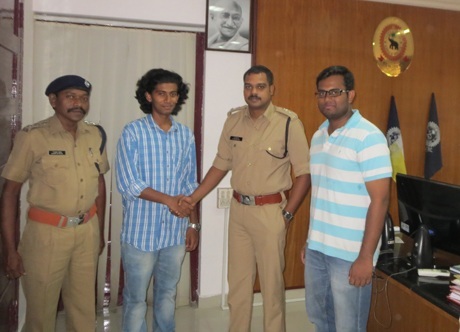 From there we went to Hari's home. I dropped dad back and he gave me a few advices. Me and Hari had lunch once I returned and relaxed for a while. Then we set out.
I was nervous. Life had already changed.
A quote @AravindJose emailed me seems right here:
"No man ever steps in the same river twice, for it's not the same river and he's not the same man." ― Heraclitus