My good friend Lucky Murari got married recently and that took me to his hometown, Hyderabad.
The last time I went to Hyderabad was during my 12th grade when our batch went on a 6 day pleasure trip.
A lot has changed since then. The current state of Telengana was still part of Andra Pradesh. You might find this hard to believe, I disliked travel back then and hated train journeys even more.
I met Lucky during Tata Jagriti Yatra in 2010. The friendship with Lucky and two others, Namrata and Sumit, is undoubtedly the greatest outcome I have had from the Yatra.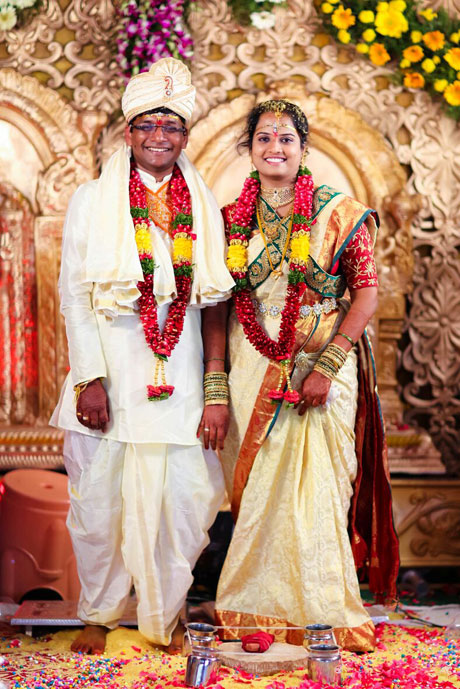 Just as I arrived at Lucky's home, their parents being the generous hosts they are and it being a wedding house, I was immediately served lunch. I instantly loved the food in front of me.
I had been away from India for about 8 months at that point, so my taste buds were craving for the complexity of flavours that only a heavy dose of Indian spices can deliver. And boy, Hyderabadis love their food spicy!
My previous experience with Hyderabadi food was just their biryani. I am not a huge fan of the same and I think it's a bit over hyped. Not that it isn't great, don't get me wrong, but we do have amazing biryianis in Kerala and a lot more styles than what I have tasted in Hyderabad.
What excited me about the lunch was the liberal use of tamarind in the curries and sides. Malayali's crave for fish curries prepared with Kudampuli and associate it as a delicacy. And when similar tastes come by we are in love!
Being away from home forced me to start cooking and soon I realized that I loved cooking. It relaxes me and I love how something I cooked can sometimes surprise my taste buds.
(That makes me sound like a fabulous cook, I promise it's just fancy words. In reality all I make is eggs, potatoes, noodles and pasta. lol)
Like most people who cook, I often collect recipes of the things I love and I decided that I was going to learn how to make some of the sides from Lucky's mom.
Learning From The Wise
Lucky's mom, Padma took  me under her wing. I was about to find out how well she knew cooking and how incredible she was.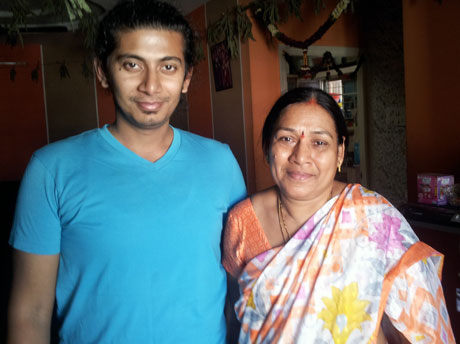 We had no common language. Apparently if you hangout with someone long enough and you try, you will be able to communicate. Maybe that is how early human beings communicated and came up with a language?
She is very intelligent. She knows why some things are done some ways. She understands the science behind cooking and always explained to me with reasons instead of just saying that's how it should be.
She had a solution for everything. What happens if it's too salty, or too bitter.
She also understood nutrition. She told me why we she used raw ingredients to preserve the vitamins.
Moms (or the person who cooks) influence the health of the entire family and having a mom who understands nutrition is very important to stay healthy. We often take that for granted.
Growing up I remember how my mother would always limit the amount of junk food I ate. And we as Indians are lucky in general because our cuisine is loaded with spices. Various spices, along with their flavour, also bring essential micro nutrients.
Tomato Pickle With Tamarind
Amongst everything I tried, I was floored by her tomato pickle. I loved it so much that I was having it with breakfast, lunch and dinner.
She made a new batch and showed me how it's done. She gave me a theory lesson first and then I watched her do it.
There are some things that you can only learn by doing it, but you can get a pretty good idea by watching someone do it.
Having had the opportunity to learn from someone who knew so much and with so much patience, I felt so humbled.
Yesterday, I finally made it at home.
Of course, it didn't turn up as good as how she made it, but it was pretty good and my resident food critic, my dad, approved it. It should be better the next time.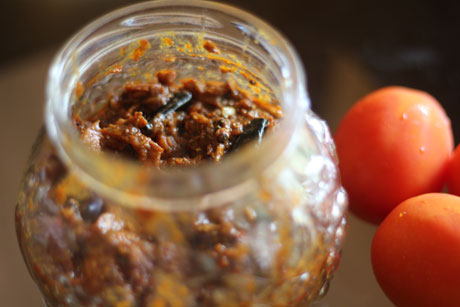 I am not sure if the recipe for the same interests any of my readers (maybe Ajith Edassery?). I should probably make that into a post for itself. However, if you wish to try it, you are welcome to come visit.
Thank you Padma aunty for teaching me!
p.s: Since this was about cooking and my time with Lucky's mom, I have missed out on two important characters to the story. His dad and his brother. I spent about a week in his home and loved hanging out with both of them.
Lucky's dad is a tea lover and a maths teacher. His brother is a traveler like me. We had so much in common to talk about and we bonded very well.