The title I had in my mind for this post was something like "An Opportunity to Meet 400 Young Entrepreneurs and Travel 10,000 kms through India".
Meeting 400 cool people itself is awesome, so I figured that if I tell you the rest of it right in the title, you would probably won't be able to handle the awesomeness 😛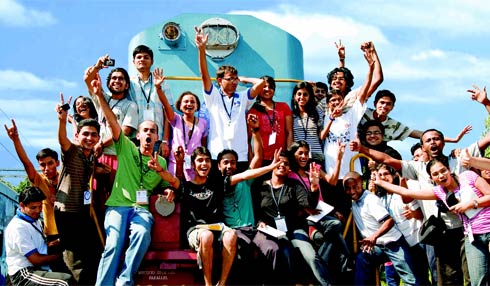 There is a train tourney called the Tata Jagriti Yatra which brings together about 400 young wannabe entrepreneurs in a train journey across India. Its in December/January, but the registration for next year is open, time to apply.
Tata Jagriti Yatra is an annual train journey that that takes hundreds of India's highly motivated youth (with some participation of international students) between the ages of 20-25 and experienced professionals with age above 25, on a eighteen day national odyssey, introducing them to unsung heroes of India.

The aim is to awaken the spirit of entrepreneurship – both social and economic – within India's youth by exposing them to individuals and institutions that are developing unique solutions to India's challenges. Through this national event we have begun to inspire the youth of India to lead and develop institutions both nationally and within their communities.
This year, @NijuMohan went on this tour and that's how I came to know about it. I have applied for the same, if you have applied, just leave a comment, just to know. @HariShanker also went on the same trip. I hope I make it this time.
Here are their records:
@HariShanker says…
Self realization was the biggest merit of this yatra. This realization was a blitzkrieg of sorts, it stung into my psyche, and made a striking impact in my mind and soul, the level of impact increasing progressively by the day. Today I stand transformed, a new soul, a recharged mind.
@NijuMohan says…
I can't tell how much I miss it now. Everytime i hear it, it raises my enthusiasm and energy like anything…
(The Trip costs about 34k INR, but you might get full or part sponsorship. Refer the Selection Procedure)