The 11th edition of BarCamp was announced with just 20 days of notice, unlike other editions. Hence the registered sessions and attendees was lower than the norm. And this time it was at Indian Institute of Management, Calicut. I don't know why, but people find travelling to the north a bit more hectic than travelling to Trivandrum.
The day started as early as 4 in the morning for me with @theAnand, @BinnyVA and @jluSujith travelling in Anand's car, cruising at speeds close to 90 kmph, thanks to the empty early morning roads. We had breakfast on the way and reached the campus at 9:30. As expected, @praseed3point14 was already at the venue.
Its my second time at IIM-K for a barcamp. The campus is spread over around 265 acres (I think) and its awesome!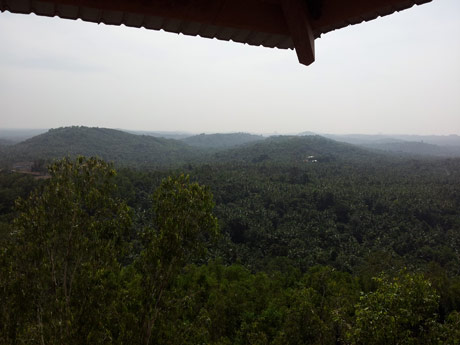 The turn out was really low, and we were told that a train from Cochin reaches at 10:45, so we waited for them, but in the meantime the real essence of barcamp happened. We started discussing random things starting with career advice, dating advice, then went to technology and other interests.
I took a break and took the opportunity to explore the campus a bit with Binny and Sujith. When we returned, the hall was full. magic. Praseed Pai was already talking. His session titled "IITs & IIMs – Are they (still) Socially Relevant ?" spurred discussions. He pointed out that students who miss admission to IIT or IIM are also equally or even more capable than the ones that get it, but still the society gives undue importance to IIT and IIM passouts.
Praseed was followed by Hari K T, with his session on "Integrating FB". He explained how to connect with FB using its Graph API.
I was the next in line. After fixing some technical issues with the projector and fixing a crashed presentation (thanks to my Technical team lead @BinnyVA) I started off with my Presentation – "How to Print Dollars with Your PC". When I was in college I have spent so many hours trying to make a buck online but it took me 3 years to succeed. I wanted to give them some easy quick ways to make money online. I wasn't teaching them fishing, I gave them some fishes.
The presentation went well, it was taken well too! Here are my slides:
After lunch, Shwetank from Opera took his session, "HTML 5 and Beyond". What interested me was the beyond part of the presentation where he gave demo of stuffs that Opera is working on. Like using the device orientation and the gyroscope to control variables on screen. He gave a sneak peak into the future of what the internet experience will look like. Future is waiting!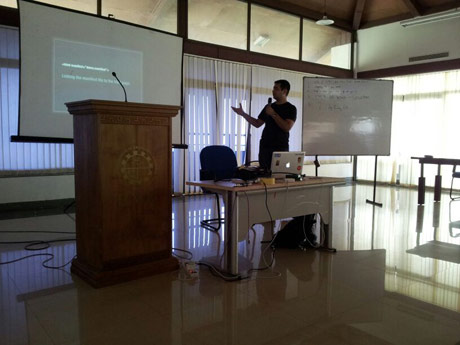 Now it was time for extempore sessions. Binny gave a talk on his latest project MADapp. And Praseed recommened some of the books he have read.
When it was time, we took the group shot and said our good byes. In total it was an elegant clean event. Nothing was wrong.
My day was no where near over. On our way back to Cochin, we spotted a carnival (somewhere on the way) and went in. We went on rides and had a crazy evening before I slept off like a dead man in the car.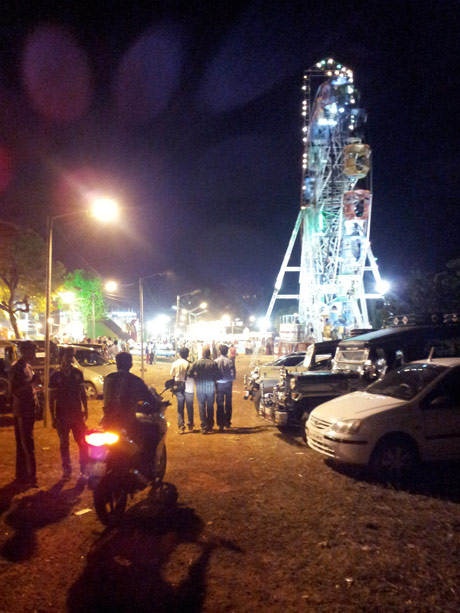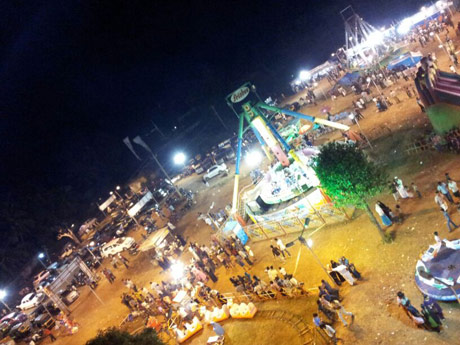 Next thing I know, I am home and dinner was there. I think Anand paid for it. Danks!