India is very well connected by trains (in fact one of the best train networks in the world), state transport buses and rickshaws. But when it was time to decide how I would be travelling the country, I wanted something that would give me the freedom to take any road I want whenever I wanted.
A two wheeler was an obvious choice but the idea of travelling with luggage didn't appeal to me. Then there is the risk factor that comes with a bike along with all the coolness and adventure. After looking into various four wheeler options I decided that I wanted a Bolero. A 3 day trip in a friends Bolero to Manipal in March 2013 confirmed my choice.
A new car wasn't necessary, there were too many used Bolero's out there for sale. People had many reasons to sell them.
A Bolero is a glorified Jeep. Its more comfortable than your ordinary Jeep, but is no where near a family sedan. And you could drive it through 'almost' any terrain and that made it perfect for an India tour.
The hunt for a good vehicle lasted for almost a year. And I finally found mine from a guy who lives not far from my grandfathers home. It was the 8th of November 2013. She is a 2011 model, white Bolero with a DI engine. I named her Matilda.
(About the name, I call my niece Matilda. I adore her and when it was time to name my car I wanted it to be the her name.)
Together we have travelled over 6000 kilometers. We have been on highways, sandy beaches and dusty off-roads. There was even an occasion when we got stuck in a sand near a beach in Manipal.
Mathew uncle, my fathers closest friend and a member of our family, once told me that the first car will teach me a lot about cars. Since I purchased a used one, I believe that my learning started even before I owned one.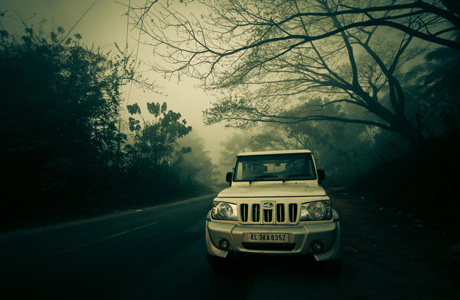 Here are a few crude notes from my notepad mostly contributed by Mathew uncle, Faizal Khalid, Paulotti and Muttu – these people helped me the most with the purchase of Matilda. And of course my Dad.
Do not deal with brokers, instead deal with the owners directly. Save on brokerage. Plus, if brokers have their own used car showroom, they might hide possible defects with the car. Calling a few brokers can give you an estimate of the market value of a particular model though.
Avoid cars from coastal areas like Aleppy. Chances of rust are more on these cars.
Avoid cars that have been constantly driven on hilly areas and off-roads and the ones that have been in a serious accident.
Ask the reason for selling the car and the purpose for which the car was used for. You don't want a car that was used to transport goods on a day to day basis or one that was used as a taxi car.
Check for rusting of the underside, body panels and under the paddings of the windows. Bolero's are prone to rust easily and some rust is unavoidable. Every car I saw, including Matilda, had rust under the window beadings.
Make sure that the car has done less than 50,000 kms. This limit you fix will depend on the car you are buying and its engine. DI engines are known to run up to 2,00,000 kms without failure, so 50,000 seems to be a good limit.
Prefer single owned cars.
Check/ask and see if there were any Door / Bumper / major parts replacements. The year is imprinted on every piece of glass, checking that will give you an idea if windows or wind-shield was ever replaced.
Check to see if there were any insurance claims. If there are no insurance claims, the owner would have a considerable no claim bonus (NCB) and this will be printed on the insurance policy.
Check the pattern of service and the date and mileage at the time of service to make sure that the service history is valid.
Verify the RC Book, Tax papers, Insurance papers and the service book. Compare the Engine serial number, Chassis number and the Engine number on the respective parts with the ones printed on these documents.
Check to see if there are any loans attached to the vehicle and make sure that all of them are cleared before making the purchase. I went to the bank directly to make sure that the loan they had on this car was cleared.
Reading the condition of an engine from its sound takes considerable skill. But generally an even rhythmic sound when the engine is idle is a sign of a healthy engine.
Check if the needle of the speedometer is vibrating as you accelerate. A vibrating needle could suggest that someone messed with the whole unit to manipulate something.
The day I bought Matilda started off like any other day. I saw the listing on OLX.in, called the guy and made arrangements to meet. Dad, Mathew Uncle and myself, we set out to see the car. Soon we were checking out the finer details, negotiating on the price, and making arrangements for cash.
In a matter of 6 hours, the deal was done and she was mine. It was then time for adventure to begin.