If a movie changed your life, how many stars would you give it?
Machine Gun Preacher changed my life and my attitude towards life and so I think its the greatest movie ever.
I stumbled across Machine Gun Preacher a few years back and life has never been the same ever since. There are a few movies that influenced me greatly, but this one tops the list easily.
MGP is the real life story of Sam Childers, a reformed drug dealer and a biker who goes to Sudan to volunteer for his church and ends up being the savior of kids who are tortured, raped, sold into sex slavery and forced to become soldiers by the LRA in Southern Sudan and Northern Uganda.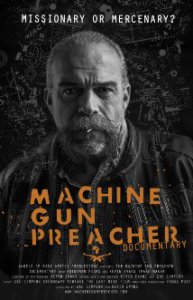 It was not his war. He did what he could. And then he did things he never thought he could. The stuff of superheros.
But that's not what influenced me the most. True, knowing about a man who has done so much and is still doing it is inspiring. But there is more to it.
The movie portraits a kid who was forced to kill his mother so that he and his brother could survive. They had already killed his father and then he was separated from his brother and was forced to become a soldier and kill.
At a time when Sam is so low and frustrated and filled with hate, this kid comes to him and says, "If we allow ourselves to be full of hate, then they have won. We must not let them take our hearts."
Now if a kid who has lost everything and just wants to find his brother can say that, I think we should be fucking happy if we have food in our fridge and a bed to sleep on knowing that our family is safe. Nothing else should bother us.
When Sam goes back home to raise funds and is saving every penny to save more kids and build a home for these kids in Sudan, his daughter complains because he does not let her get a limo for her prom.
Doesn't that sound a lot like the rest of us? We complain over luxuries and take so much for granted when there are people out there who need the resources more than we do.
My 6-Month Movie List
I have a list of few movies that have influenced me greatly and I make sure that I watch them at least once in 6 months. I go to Machine Gun Preacher every time I feel frustrated with my life.
Here is the list:
Watch them all. If you can pick only one, go for Machine Gun Preacher. That's a story you will never forget.
You can find more details of the cause and read more about Sam Childers, read real life stories and donate here: Machine Gun Preacher Angels of East Africa