So as planned, I went to our college Farewell Party. Started off in our car, with mom (to drop her at work), picked @Jithoot on the way and reached the men's hostel. Well, that's not where the party is, but you probably know that every activity in college starts off from the hostel.
The hostel didn't have the usual serenity or the lets-have-a-drink-and-watch-a-movie-and-sleep mood. Everyone was running around digging up rotten records that dates back to 2006, our first year and packing bags. Everyone had to vacate the college hostel by 1o am today.
So we started helping some of our friends find their stuff. By 11 we were all soaking wet and smelled like shit. That's where the AXE Effect comes to play. Ssshh.. Ssshh.. That's all it takes to get back into the game.
(I wish I could post some real photos here, in fact we have snapped a lot of pics, but since my camera is broken, I dont have any of them with me. 16 more days to go before I get a new one. That's another story)
Once everything was stuffed into the bags, me and @Harikris19 went to meet a guy who is known as Varghese Sir. He is the local guardian of Hari and apparently, Hari haven't seen him for over 2 years. Hari took us so as to dilute the dosage of what he was supposed to get.
Well, this guy is a man in his 70's or 80's and he confessed that he never got an audience to talk to in a long time. He hadn't got any since 1992, that's what he said. Since we were not in a position to negotiate, we had to listen to 4 of his stories-of-bravery. That's how old people work.
Somehow we managed to get past him. We then went to our college to take a photo with our Project Guide. Our lady team mate, Sonia Sunny was waiting there for us. She had been waiting for like 45 minutes, so we were expecting to see faces and we got just that. We met a couple of our teachers, took the photo with her and off we went to the Farewell Party at Maria International, Kothamangalam.
Other than the usual experience sharing and autograph sign-ings, three major things happened at the Farewell.
1. Release of our Class Yearbook "I will Always Remember" – An awesome work of Photoshop by a talented designer named Arun Areekat with profiles of all 66 of our class.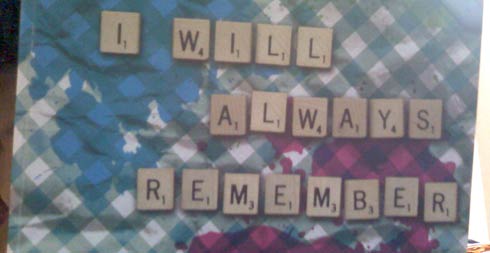 (The name was suggested my me, inspired from a field they use in their college yearbook in the movie Girl Next Door)
2. Release of our Class Video – A 45 min video of various scenes from our life at MACE. Videography and Editing by Jith N. Shashi.
3. Launch of EB Times – The social networking portal I made for our class.
Everything went according to plan, oops, lets put it this way, there was no plan. So everything just worked fine. Our Group Tutor was there for a short time for all the 3 events.
Afterwards we had lunch and we all sat down to see the Class Video and then I gave a demo of EB Times.
Other than the usual farewell-party-usuals something worth mentioning was a conversation that I had with a friend of mine, Nandini. I discovered her very late towards the end of the final year and found her personality worth exploring. (Now is when you have to act like and adult and read only what is written here and stop reading between the lines). I got a sneak-peak into that today and loved it. I feel like I missed a lot.
We took at least 1500 snaps in total today. By about 6 in the evening we all said the real Good Byes.
I went back to the boys hostel with some others to pick up a board that we had used for our project. Loaded the car with the board and dropped my friend Vineeth at a private hostel where he is staying for the night. (Did some minor drift work with the car at the hostel).
So that left me and Jibu and @Jithoot and @Harikris19. The usual chit-chat, dropped Jibu at Kothamangalam Bus Stand, dropped Sree at his home. By the time I reached Perumbavoor to drop off Hari, it started raining. Loaded his stuffs to an auto-rikshaw and got all wet. And came home safely.
That was one heck of a day. I will always remember…