So, last Sunday it was BarCamp time once again. This time it was at MACFAST College, Thiruvalla. And as I said before, I did a small demo of WordPress back-end.
Saturday was a totally busy day, working on College Project Report and other stuffs. I have never been to Thiruvalla before and the only time I have been to Kottayam was for BarCamp Kerala 7.

Usually, I got with @Eldhose for such camps, but this time he was unavailable. So after some calls and tweets, I decided to go via a Trivandrum Bus from Kothamangalam, with my friend Vineeth Wilson.
I set out at 5.30 in the morning hoping to catch a Transport bus to Kothamangalam; I got none. Long story short. at 7.30 am I was standing in the Kothamangalam bus stand and looking for a bus. I would have reached the college in that time if I had chosen to drive.
Boarded a Trivandrum bus from Muvattupuzha and on the way I did some last minute prep for my demo.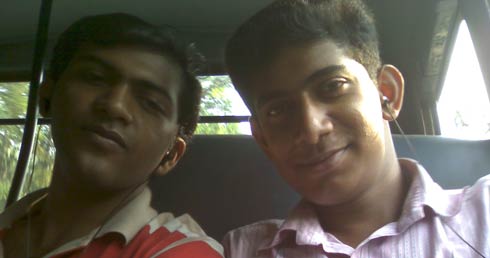 Thankfully, the event hadn't started when we reached there at about 10.15 am. @KenneyJacob greeted us and I got into the dark seminar hall of MACFAST. I met the usual gang of early birdies, @Praseed3point14, @BinnyVA and the rest. It was good to see @AravindJose once again, he wasn't at any of the recent BarCamps or other ones.
I found a seat on the side row near @BinnyVA. It was fun to have some off topic chats; I have always enjoyed Binny's company.
I was soon given the duty of handling @BarCampKerala; @AravindJose who used to handle this, took up the duty as a photographer. @AravindJose and @Zeqox were the photographers for the event.
The sessions started, I barely listened to anything this time. I was more into Tweeting and uploading pics. Also had fun taking some shots with Aravinds camera, I am not used to the view-finder, I should get used to it soon.
However, I managed to win a tee shirt from @Shwetank, the Opera guy. It was thrilling until I got home and actually got to wear it. The tee looks like a camisole on me 😛 #Fail (These are sometimes when you can say, what you win is not important.)
First Session was by @deepakp7 about Statistical Machine Translation. My involvement in the session was limited to distributing a handout he had brought.
Folks from Artin Dynamics demonstrated their product Spara, which I understand is a energy conservation product that studies power usage of a system, analyses it and shuts down power whenever necessary, there by saving power.
The presenter Deepa Eshwar was good looking and enthusiastic, but the presentation as such was incomplete. They didn't even have a single photo of the product. They could have included some shots or even could have shown us a demo.
Ranjith Avarachan took a session about how social media enthusiasts are using social media to do community help and charity. I was busy learning Aravind's camera so I missed most of it.
Fahad Mether talked about an interesting initiative of his – No Negative Day. The 24th of every month is chosen as the No Negative day and on this day you knowingly do some positive things like you could stop smoking that day, call your loved ones and so on. Someone asked why he chose 24th, for which he said, 24th is his birthday 😛
Alan Haggai talked about Pearl and why he thinks its awesome. He moves his body so fast, I was following him around with Aravind's camera trying to take one good shot of him. Most of the pics I took of him are blurred.
@AravindJose came up with his session: Web Penetration in Kerala – Status Report & Forecast. He showed it using a video. It was pure AWESOMATIC. I would rate it as the best part of #bck8. A blog he started about Kottayam City: Kottayam Pattanam – Celebrating Kottayam, is running well now. His video was very insprational, you can see it here.
Another session I enjoyed was by @ivan457 about Entrepreneurship – How to start-up in Kerala.  I used to talk with him on twitter mostly about Paypal, but I never realized he was an advocate until he told so in stage. His presentation was very insightful, and he knows the legal side very well (he should, he is an advocate :P) ; He would make a good contact in future 😉
For the first time at a BarCamp, Lunch was FREE. The impact of lunch being arranged at the session is big it seems. Kenney (later) observed that people would stay back for the noon sessions since food was available there. Other wise many would go out to have food and leave that way.
The most interactive session after lunch was Kenney's session on Marriages. He discussed various marriage customs and traditions existing in kerala. His session ended with a slide that read "Live in relationships", which is more likely to be the scenario soon.
I was kinda feeling sleepy, then I went out with Ivan, Ranjith, Aravind and some other guys for some chit chat. In the mean while, @NijuMohan's session on the recent Tata Jagriti Yatra he went on, Reni Yohanan's session on Network Securtiy and @AjithSamJohn's session on Social Media Recruitment passed by.
Outside the hall, we talked about Paypal and how optimising for local search could bring us decent traffic. Njiu joined us after his session.
Now it was my turn. Sky was getting dark, and it was about time to rain, so many left the hall. when I came up there, there were only about 20 listeners.
I started with a bummer. I was showing how to change the default username admin. The idea was to create a new user, and delete the old user and move all the posts to the new user. After creating a new administrator, I forgot to sign out and sign-in from the new user, so I couldn't delete the admin user. That was embarrassing. But the crowd was supportive. (Here is it if you need details: 3 ways to change default admin username)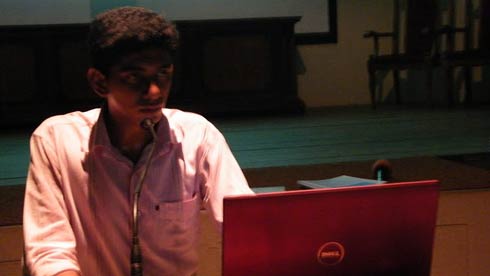 Then I showed how to install themes and plugins. I also showed how to edit the theme, just the basics. If you like to dig deeper, here is something: Make Yourself a Unique WordPress Theme in 5 Easy Steps. I hope someone got something from my session.
Arun Raj was ready with his session on Drupal to fight with WordPress, but he decided to save it for the next time since the audience head count was poor.
We had tea and snacks, thanks again to the Principal Father Abraham Mulamootil. While having tea he asked me if he could learn how to edit his blog, I assured him its easy and anyone can master it if he puts in some effort. He is an enthusiastic guy with a modern outlook. VERY unlike other people of his age who thinks if a person goes online often, he is probably spoilt.
Then Binny came on stage with some humour and talked about eNGO. Its basically an ad network for the non-profit organisations. All those who have adspace on personal blogs that they do not wish to monetize can join in. It will be live soon.
Finally we thanked the college and the principal, said good byes, took photos and came back home. Thanks to the lift till Thirivalla Transport Bus Stand from @VipinOnline. We got a bus till kottayam easily, but coming home from there was quite hard. I reached home at 11 pm.
Overall, it was an eventful day. I have attended even better BarCamps, the AWESOME-ness element was missing. Looking forward to next one.
BCK8 in 3 Minutes – A Round-Up Video by @AravindJose
P.S I missed @TheAnand who was baby sitting @jlusujith who was down with fever (ahem :P). Photos of #bck8 are here, thanks to @AravindJose.